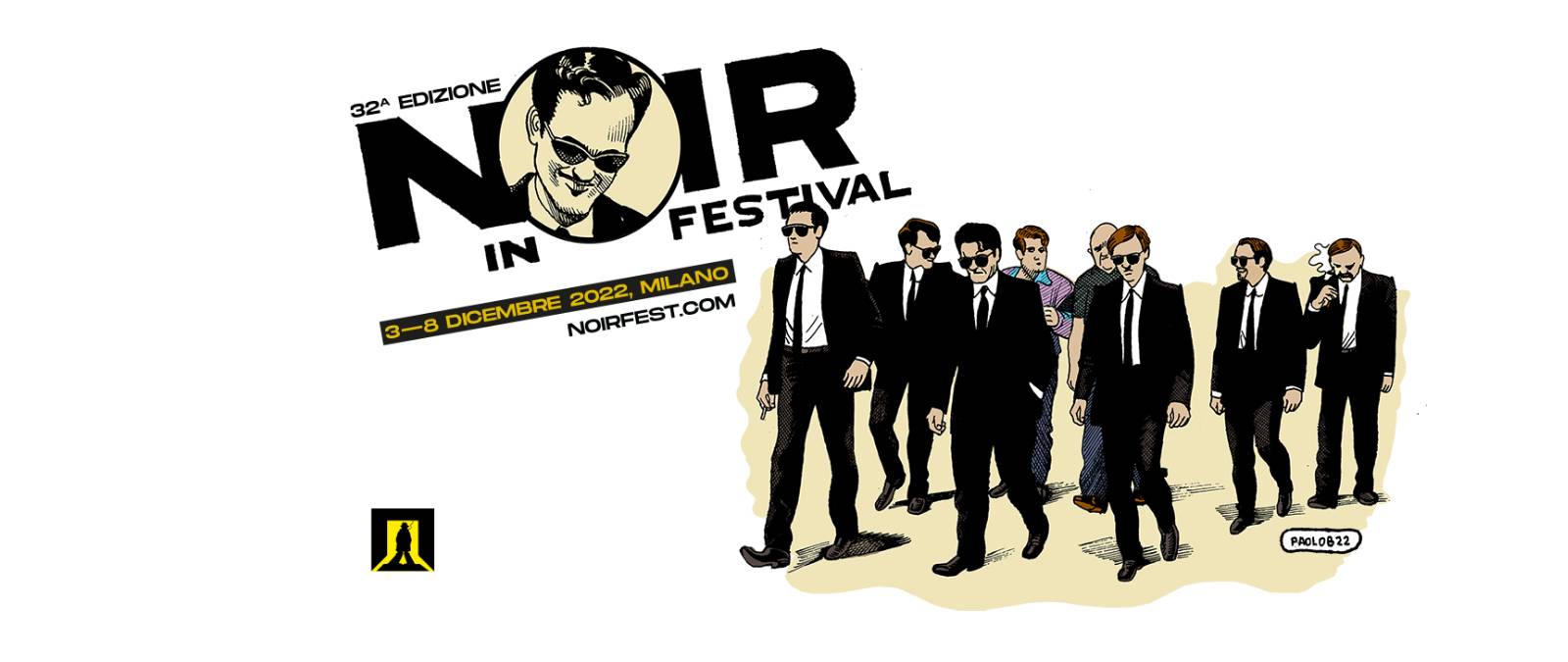 Noir in Festival 2022
IULM goes black. The XXXII edition of the Noir in Festival is coming soon. Check out the program!
Kicking off the XXXII edition of the Noir in Festival, which this year will take place in Milan from December 3 to 8 between the now traditional headquarters of IULM University, the Cinema Arlecchino of the Cineteca di Milano and the Rizzoli Galleria Bookstore.
The Noir in Festival 2022 is characterized by a new twist in the characteristic of the selection: in tune with the changing world and the urgencies of a time when violence and clashes of civilizations fill the scene, even the authors chosen feel the pressures of current events. Thus opening the international competition is Alessio Cremonini's new film, Profeti, which follows, with an unexpected twist, the dramatic imprisonment of an Italian journalist in ISIS military camps. The other film on the first day is Camille Griffin's Silent Night, starring Keira Knightley and Lily-Rose Depp.
Among the 13 films in the official selection (all Italian premieres) are numerous titles destined to spark debate: from Mani Haghighi's Iranian Subtraction, which captures the condition of women in Iran today, to Alexander Zhovna's Sashenka, a Hitchcockian Ukrainian thriller about deviance and madness that takes on a different meaning when placed in the conflict that is digging unbridgeable barriers between two peoples. Then there is Steven Soderbergh's new work, Kimi, starring Zoë Kravitz, coming soon to Sky and NOW, Mark Jenkin's Enys Men from Engalnd, Lee Jung-jae's Hunt coming from South Korea (directorial debut for the beloved anti-hero of the Squid Game series) and Patricia Mazuy's French movie Bowling Saturne, an energetic denunciation of feminicide in the form of a thriller. It continues with one of the most eagerly awaited premieres of the year, My Name is Alfred Hitchcock, the new work by that genius of cinephilia that is Mark Cousins (The Story of Film: An Odyssey, March on Rome), the Canadian Viking by Stéphane Lafleur (a paradoxical satire on the theme of true and false, the year's authentic revelation after the Toronto festival), La niña de la comunion by Víctor Garcia (fresh from its triumph at the Sitges festival). Finally, a small gem of cinephilia dedicated to the genre with Ragtime by Giuseppe Bocassini, which deserved a passionate audience after its Venetian appearance. Closing Noir in Festival 2022 will instead be the year's finest noir mélo, Park Chan-wook's Decision To Leave, winner of the Palme d'Or for Best Director at the last Cannes Film Festival.
The guest of honor for the year is undoubtedly
Harlan Coben
, the winner of the Raymond Chandler Award 2022, now recognized as a master not only of the noir novel but also of TV series inspired by his books. Along with him are many successful writers expected in the Milan days: from
Donato Carrisi
(now in bookstores with
La casa delle luci
for Longanesi), who will be dialoguing precisely with Coben on the latest novel published by Longanesi
The Stranger
, to
Maurizio De Giovanni
(author of the brand new
Caminito
that marks the return of Commissario Ricciardi, published by Einaudi), from the celebrated Spanish TV journalist
Vicente Vallés
, who crafts a gripping spy novel about the history of relations between Russia and the West in
Operazione Kazan
(Salani) and recounts it in dialogue with Aldo Giannuli, to
Maria Oruña
, who pays explicit homage to the classic "closed room" detective stories in a modern and original novel like
Quel che la mare nasconde
(Ponte alle Grazie). We will then celebrate the return of
Gino Vignali
(I milanesi si innamorano il sabato, Solferino Editore), the debut in noir novels of a talented young director
Cinzia Bomoll
with
La ragazza che non c'era
(Ponte alle Grazie) and of journalist
Paolo Maggioni
with
La calda estate del commissario Casablanca
(SEM), in dialogue with Luca Crovi and his new
ll mistero della torre del parco e altre storie
(SEM) .
IULM will be a protagonist of the Festival, in addition to the meeting with Harlan Coben - to be held in the Sala dei 146 onMonday, Dec. 5, at 12:15 p.m., and the finalist films of the Caligari Prize - also with the debut of the new Game inFest section, created with QAcademy and dedicated to the theory and practice of genre gaming between cinema and interactivity.
"
Perhaps the time of Marlowe and Spade is gone forever
," write Marina Fabbri and Giorgio Gosetti, "
and perhaps even James Bond must surrender to age and technology. But they may not come back, as is often the case with fantasy heroes who can illuminate the future. That's why we have the duty and privilege of sounding out each year the mutation of creativity, the insights of new talent, the transformations of a happily hybrid and mutant genre. This edition of Noir resembles the best of our past - it is no coincidence that we went back to 1992 for the image of the year - but it is shot through with a dynamism and unprecedented suggestions that confirm how noir is still now the infallible thermometer of our time
."
Program in IULM


Caligari Prize
sunday, Dec. 4, 5 p.m.: Ghiaccio by Fabrizio Moro and Alessio De Leonardi

sunday, Dec. 4, 7 p.m.: Ero in guerra ma non lo sapevo by Fabio Resinaro

monday, Dec. 5, 6:15 p.m.: Ti mangio il cuore by Pippo Mezzapesa
monday, Dec. 5, 9 p.m.: Il muto di Gallura by Matteo Fresi
tuesday, Dec. 6, 6:15 p.m.: Piove by Paolo Strippoli
tuesday, Dec. 6 , 9 p.m.: Una femmina by Francesco Costabile
Tuesday, Dec. 6, 5 p.m., Caligari Prize 2022 finalists meet the audience

Meetings and screenings
Sunday, Dec. 4, 2:30 p.m., Room 146, screening of the film Delitti e segreti (Kafka) - Steven Sodebergh Special Event - Viareggio 1992
Domen Sunday, Dec. 4, 9 p.m., Room of 146, La scoperta di Quentin Tarantino

-

Davide Rapp and Michele Boroni

-

Special Event - Viareggio 1992, followed by Quentin Tarantino's The Hyenas (Reservoir Dog)

Monday, 11 a.m., Marconi Hall, Masters of Film Noir: Jules Dassin. Masterclas by Adrian Wotton

Monday, Dec. 5, 12:15 p.m., in IULM 6 (Room 146): From novels to TV series, meeting with Harlan Coben. Moderator Adrian Wootton (CEO of Film London).
Tuesday, Dec. 6, 10:30 a.m. - IULM 1, Seminar Room: Verso un atlante del Giallo. Percosrsi intermediali nell'immaginario del crimine I
(PRIN 2020). Round table organized by: Link Campus University, University of Bologna, University of Florence, University "G. D'Annunzio" Chieti - Pescara, IULM University. Coordination by Gianni Canova, participation by Giorgio Gosetti.
Tuesday, Dec. 6, 2:30 p.m., Seminar Room: Stivale giallo. L'Italia raccontata attraverso la detection. Meeting with Paola Barbato, Gianni Biondillo, Donato Carrisi, Alessandro Robecchi, Grazia Verasani. coordinated by Alessandro Perissinotto, attended by Marina Fabbri

Tuesday, December 6, 3 p.m., Sala dei 146, screening of the film Let him Have Hit, Peter Medak Special Event - Viareggio 1992
Game inFest
Monday, Dec. 5, 3 p.m.:Creating a video game A meeting with Daniele Fusetto, storyteller, game designer, musician. Born in the 1950s in scientific circles and American university faculties, the video game, has become a mass phenomenon, strongly linked to technological progress. It looks like a game but developing a video game is not a simple operation and it is also a risky industry (95 out of 100 titles are an economic failure). How is a video game created? What skills are involved? How much does it cost to produce a video game?
Tuesday, Dec. 6, 12 noon: Fromfilm to video game, round trip Is video gaming the medium of the future as film and television have been in their time? Video games made from movies and movies made from video games: what is the relationship with cinema? What are the uniqueness of video games compared to literature and cinema? A talk with Francesco Toniolo, professor of Forms and Genres of Cinema and Audiovisual (Sacred Heart Catholic University of Milan) and Game Culture (New Academy of Fine Arts-(NABA), and Gemma Fantacci, PhD Student in Visual and Media Studies at IULM University. Coordinated by Giorgio Gosetti.
12 video games to experience firsthand on consoles, in The Bridge space at IULM 6 from Dec. 4-6
The Wolf Among Us ( 2013 /14), a graphic adventure based on Bill Willingham's Fables comic book series;
Blade Runner (1997), a graphic adventure based on the Ridley Scott film with actors Sean Young and Joe Turkel lending their faces and voices;
Max Payne (2001), a shooter video game. The game play features bullet time: a form of slow motion made famous by the film Matrix, itself inspired by director John Woo, who is quoted in the video game
Heavy Rain (2010), a French adventure video game;
The Saboteur (2009), an action-adventure video game set in 1940s Paris during World War II;
Discworld Noir (1999), adventure video game, a parody of the noir genre, based on adventures in Discworld, a place described in Terry Pratchett's humorous fantasy novels;
Gemini Rue (2011), graphic adventure based on the science fiction anime television series Cowboy Bepop and Blade Runner.
Milanoir (2018), an action video game set on the streets of Milan where the atmosphere and charm of the 1970s detective story is revived. It is built entirely in pixels and despite that the li level of detail is valuable
Under a Killing Moon (1994), a graphic adventure, equipped with footage featuring live actors. A novel by Aaron Commers based on the game was published in 1996;
Lacuna - A Sci-Fi Noir Adventure, a nostalgic little gem that paints an intriguing narrative adventure dressed in pixel art with noir tints. Soul of the game is the music: the jazz-style soundtrack more than anything else builds the idea of a noir tale;
White Night (2015), the graphic element and artistic flair deeply permeate the game play. Entirely made in black and white, without gray scales, W.N. has the charm of a noir comic book in motion;
Face Noir (2013), an all-Italian adventure set in the America of the Great Depression.
Download the program of Noir in Festival 2022 at IULM
Download the full program of Noir in Festival 2022
Noir in Festival is part of the Badge of Honor initiative

To earn the Badge of Honour, it is necessary to attend at least 5 Festival meetings.