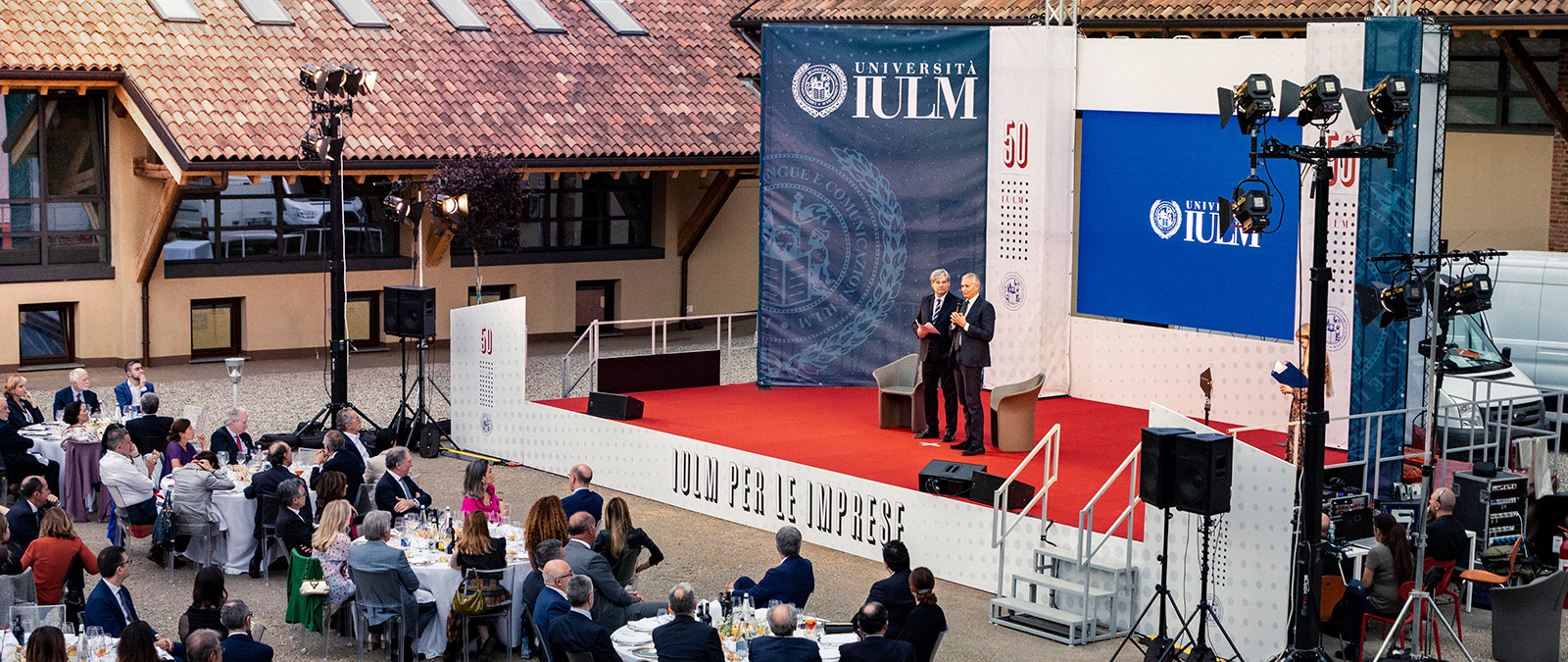 Special Projects and Partnerships
IULM University offers companies the opportunity to support the activities of the University and students through its Special Projects and Partnerships Office
The mission of the Special Projects and Partnerships Office is to connect the business world with an innovative and avant-garde university, a pole of excellence in the fields of communication, languages, art, cultural heritage and tourism, such as IULM University.
What are the opportunities for companies?
Scholarships
Scholarships are the most immediate tool to help a student finish their studies. IULM University promotes research and study scholarships "ad memoriam", "in honorem".
Title of an academic chair
Assign the name and possibly also the brand to a chair of interest for the companies.
Special projects and major events
IULM University has always collaborated in a profitable and synergic way with important companies. Organizing special projects or large events together with the University is an excellent opportunity to enrich the business and the company's network of contacts.


Employee training
IULM University is a laboratory of knowledge and training courses of the highest quality. Our courses for professionals are designed to deepen the knowledge and skills of our employees.
Research centres
IULM AI LAB and Behavior and Brain Lab, as well as the new contemporary audiovisual production center IULMovie Lab, welcome the world of companies, listen to their needs and enhance their products, projects and results through their research or dedicated communication products (e.g. corporate videos).
Environmental sustainability projects
IULM University is environmentally aware and environmentally friendly. The University is constantly committed to developing - also together with its partner companies - sustainability projects to improve the life of our planet and our community.
Communication and marketing activities
IULM University is a centre of excellence in Communication. The University therefore provides companies with its expertise to create communication and/or creative projects with strong impact and value (social campaigns, corporate storytelling, video and TV commercials).


IULM Store
The IULMStore is a showcase for the products that companies will want to make available to the IULM community.

All contributions are tax deductible.
IULM University is ready to evaluate proposals for collaboration on topics proposed by economic realities.
To request further information on the services offered by IULM University write to us at: [email protected] e [email protected]
Special Projects and Partnerships Offices
Special Projects Office and Partnership Office
Via Carlo Bo, 1 - Milan
[email protected]
[email protected]
Tel: Partnership +39 02 89141 2893 - Special Projects +39 02 89141 2894

Contacts:
Special Projects Office: Maria Luigia Ventura
Partnership Office: Roshan Raimondo