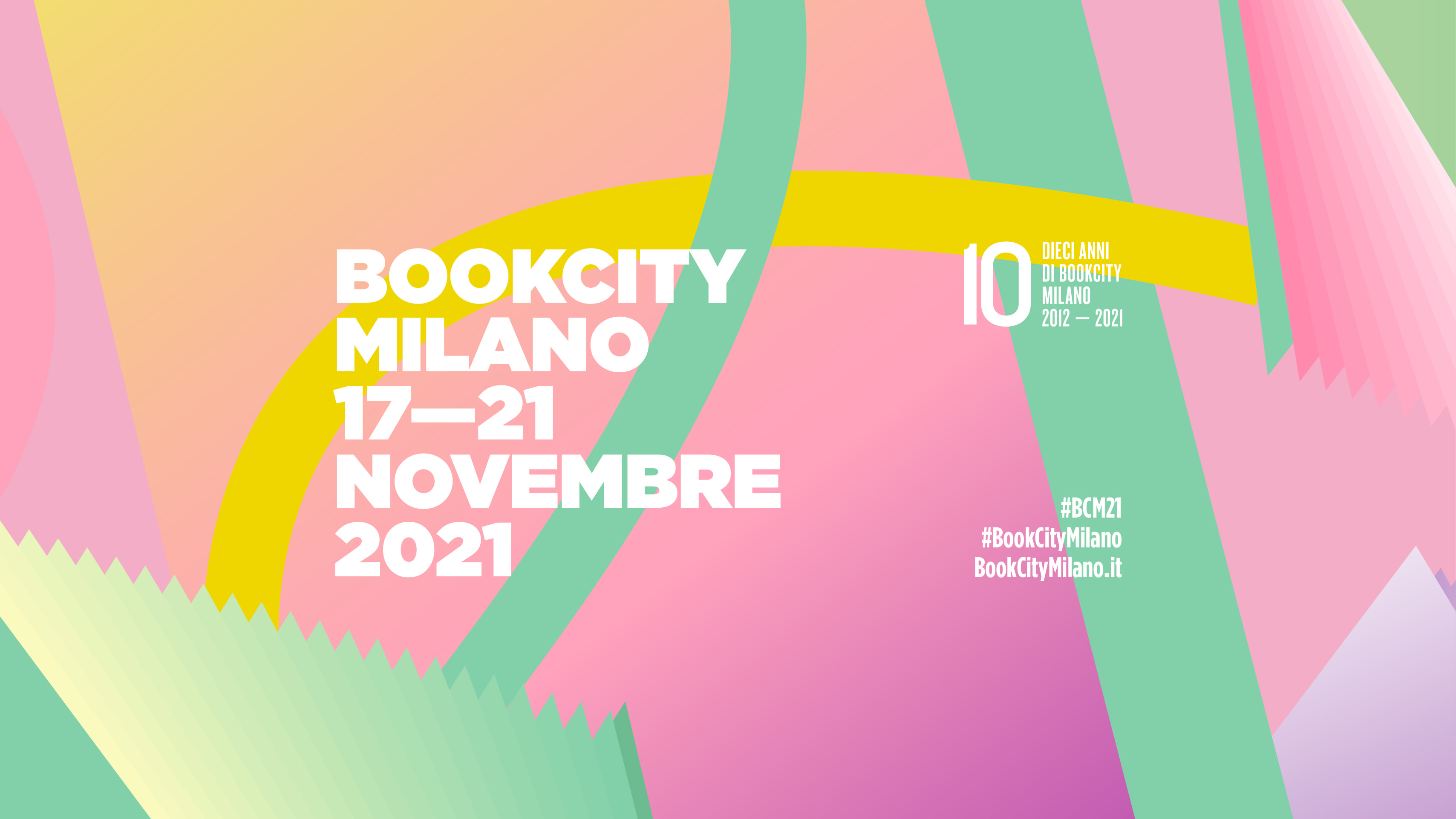 Bookcity 2021: back in attendance!
The Milan event dedicated to books and publishing turns 10 years old
From November 17 to 21, Milan will come alive with events related to the world of books and publishing: it is the tenth edition of Bookcity that this year, after the edition fully in remote in 2020, returns in presence. A lot of meetings with authors, conferences, book presentations and round tables that will be scattered around the city.
Once again this year IULM University will be the protagonist with a series of meetings organized around three important thematic issues. The first one is connected to an international event ("After the Wave") which takes into consideration the so-called "Long 68" and its legacy, deployed within imaginaries that are now transnational. Not far from these issues is the link of problems evoked by the practices of translation, both in a literary sense (with particular regard to a figure still as topical as that of George Orwell) and in a media sense (with a focus on the theme of dubbing). Finally, from a university of communication there can only come a lively and even conflicting reflection on the role of communication and politics in the time of the pandemic
Below is the calendar of IULM events, which will take place partly in person and partly via streaming
08/11 at 2:30pm "Waiting for Bookcity" Discover the programme here
18/11 at 11:00am Sala dei 146. Audiovisuals and foreign languages: new ways of translating and dubbing
With Andrea Bellavita, University of Insubria, IULM University; Marco Villa, TV author and expert in TV series; Diego Castelli, Mediaset channel manager and expert in TV series; Mara Logaldo, IULM University; Donatella Codonesu, journalist, theatre producer, surtitler; Renata Londero, translator of theatre texts (event in presence)
18/11 at 11:30am Aula Seminari. What creativity waiting for the roaring twenties
Presentation of the book by Eugenio Gallavotti, La teoria dei colori. Stile & società a contrasto, Milano, Franco Angeli, 2021. With Cristina Dosio Morozzi, critic and design academic; Paolo Di Paolo, writer and playwright; Franco Raggi, architect; Eugenio Gallavotti, journalist and lecturer at IULM University (event in presence and in streaming)
18/11 at 4:00pm Sala dei 146. Or Well That Ends Well. Rereading Orwell today and why
A meeting with four scholars and translators of Orwell. With Andrea Binelli, University of Trento; Francesco Laurenti, IULM University; Enrico Terrinoni, University for Foreigners of Perugia, IULM University; Elena Liverani, IULM University; Massimo Bocchiola, IULM University (in-person event)
18/11 at 4:30pm Aula 125. Work context and organizational relations in the post-Pandemic era: towards hybrid models
Round table on the open source volume Internal Crisis Communication in the Time of Covid-19 Pandemic. Company strategies and working experience of employees. With Alessandra Mazzei, IULM University; Luca Quaratino, IULM University; Eugenio Lanzetta, Sella; Giovanna Di Bacco, E.ON (event in presence)
18/11 at 6:00pm The translators of the future meet the writers with the ñ
21 short stories translated in part by professionals, in part by students of IULM, Università Statale and Scuola Civica Traduttori e Interpreti. Three authors represented in the anthology meet their young translators on Zoom. With Sandra Araya, writer, Ecuador; Maria Eugenia Ramos, writer, Honduras; Sergio Gutiérrez Negrón, writer, Puerto Rico; Elena Liverani, IULM University (streaming event)
18/11 at 6:30pm A New Design for a New Philosophy, Anomalies for a New Paradigm: creative tools to spread and transmit new conceptual models and new structures of critical thinking
A three-way conversation on the relationship between design and philosophy. With Riccardo Manzotti, IULM University; Francesco Galli, IULM University; Lorenzo Castellani, Political Analyst and Adjunct Professor of History of Political Institutions - LUISS Guido Carli University (event in streaming)
19/11 11:00am Hybrid spaces. New social, economic and urban opportunities after the pandemic
Presentation of the books edited by Ariela Mortara and Rosantonietta Scramaglia, Spazi urbani come nuove opportunità di socialializzazione, integrazione e attrazione turistica, Milano, Lumi, 2020 and Spazi ibridi. Nuove opportunità sociali, economiche e urbane, Milano, Lumi, 2019. With Alberto Oliva, journalist and theatre director; Cristina Tajani, Councillor at the Ministry of Labour of the Municipality of Milan; Francesca Serrazanetti, Politecnico di Milano, co-director of "STRATAGEMMI Prospettive Teatrali"; Ariela Mortara, IULM University; Rosantonietta Scramaglia, IULM University (event in streaming)
19/11 at 4:00pm Past Futures. Anthropology of the "after"
Presentation of Silvia Vignato's book Le figlie delle catastrofi: un'etnografia della crescita nella ricostruzione di Aceh, Milano, Ledizioni, 2020, and screening of the documentary Aceh, After (Silvia Vignato, Italy, Indonesia, 2020, 44'). With Silvia Vignato, Department of Human Sciences for Education "Riccardo Massa", University of Milano-Bicocca; Claudia Mattalucci, Department of Human Sciences for Education "Riccardo Massa", University of Milano-Bicocca; Giacomo Pozzi, IULM University; Martina Treu, IULM University (event in streaming)
19/11 at 5:30pm Aula Seminari. Healing with communication, falling ill with communication. A public debate
A comparison between two very different, though not entirely opposite, interpretations of communication at the time of the pandemic, starting from two books: Andrea Miconi, Epidemie e controllo sociale, Roma, il Manifesto libri, 2020 and Claudio Jampaglia - Giuseppe Mazza, Il virus siamo noi, Milano, Ponte alle Grazie, 2020. With Gianni Canova, Rector of IULM University; Claudio Jampaglia, journalist; Paolo Giovannetti, IULM University; Giuseppe Mazza, IULM University; Andrea Miconi, IULM University; Maria Angela Polesana, IULM University (in-person event)
20/11 at 4:00pm Aula Seminari. Nationalism taken seriously
Presentation of the book by Elie Kedourie, Nationalism, Macerata, Liberilibri, 2021. With Antonio Pilati, columnist and essayist; Angelo Panebianco, University of Bologna; Alberto Mingardi, IULM University and editor of the book (event in presence)
20/11 at 5:00pm Sala dei 146. After the Wave. Transnational Imaginaries at Work
Starting from the book on global 1968 edited by A. James McAdams and Anthony P. Monta, Global 1968. Cultural Revolutions in Europe and Latin America, Notre Dame, Notre Dame University Press, 2021, a dialogue will be held on the change of transnational imaginaries experiencing a cultural revolution after the "long 68", also thanks to the contribution of other extra-political languages (literary, musical, cinematographic, iconographic...). With Volker Schlöndorff, Oscar-winning director and Cannes Palme d'Or winner; A. James McAdams, University of Notre Dame; Eric Zolov, Stony Brook University; Carmen Helena Tellez, composer; Gerd-Rainer Horn, SciencesPo, Paris; Franco La Cecla, anthropologist; Massimo De Giuseppe, IULM University (event in presence and streaming)
20/11 at 5:00 L'antipolitica e la crisi della democrazia
Presentation of the book Antipolitica. Populisti, tecnocrati e altri dilettanti del potere, by Giovanni Orsina and Davide Allegranti (Roma, Luiss University Press, 2021). With Salvatore Carrubba, IULM University; Giovanni Orsina, LUISS University, member of the scientific committee of the Center for the Study of Liberal Democracy; David Allegranti, author and journalist; Guido Formigoni, IULM University (event in streaming)
Click here to register for events in Italian language