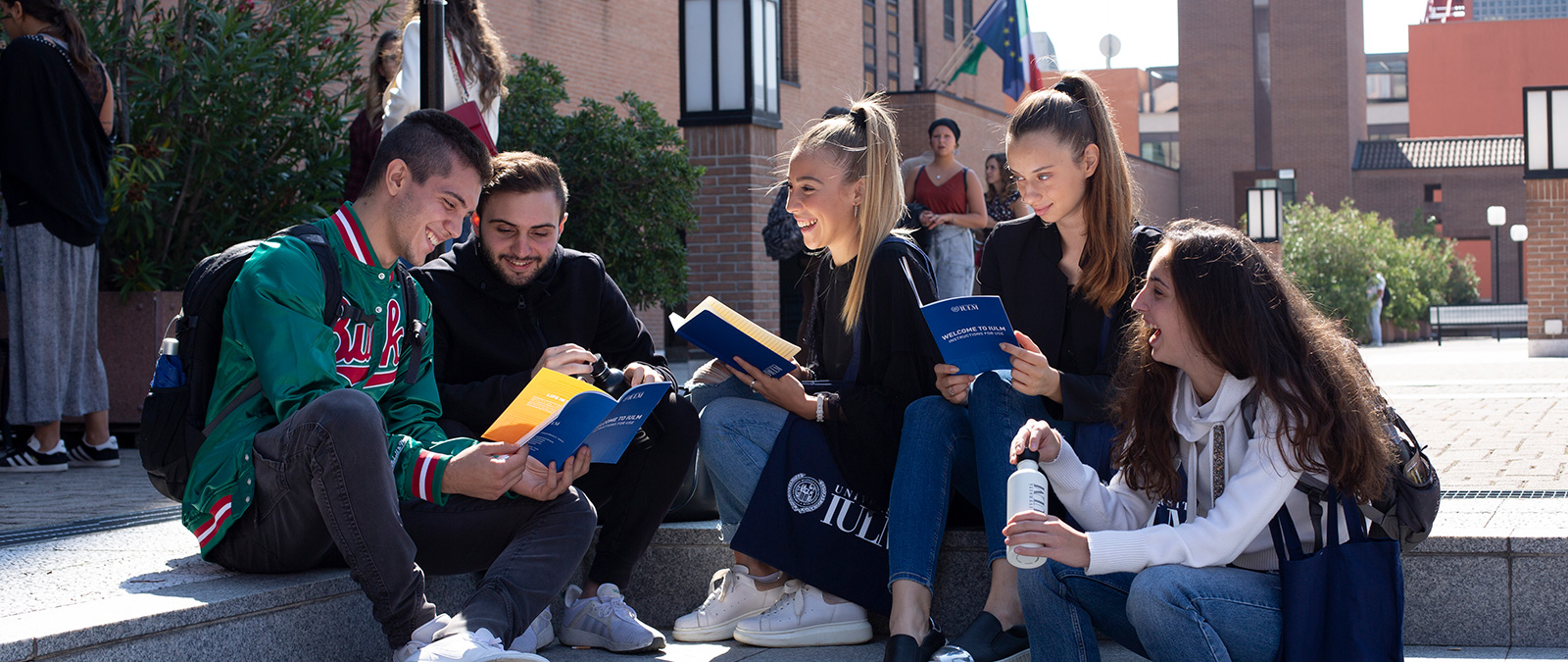 Welcome to IULM: first semester classes begin
IULM University is ready to welcome its students! Take note of all the useful links over the year!

As of September 25, the First Semester of the 2023/2024 academic year officially begins! IULM wishes everyone a good start to the Academic Year. Below you will find a whole series of links and information that will be very useful to you in the coming months.


Service Desk

Through the freshmen desk you can get all the support and assistance you need to get the best start to your university career, thanks to the experience of a student who has already graduated from the University. Click here.

Web Agenda
Web Agenda is the platform that allows you to:
check the class schedules
consult the calendar of examination sessions
book appointments and workstations (via Easy Planning)
check the study rooms
check the International Language Centre's class schedule


MyIULM
MyIULM is a section of the IULM portal that allows students to consult:
the teaching calendar
the teachings and exam schedules
the directions for compiling the study plan and writing the thesis
the regulations for internships and workshops
notices and directions for workshops
a section with all useful information for your university career
To reach MyIULM from the homepage of the portal www.iulm.com, click on the "MyIULM" button at the top right (next to the navigation menu). Select your Degree Course and navigate the sections dedicated to it. Or click on the menu at the top right to discover the sections, "FAQ", "Services for Students" and "Access to Services".
On MyIULM you will also find a link to the IULM Community (a teaching support tool with which the University provides its students and faculty with spaces for learning, communication, information and archiving. In each space you can view teaching materials, tutorials, in-depth content, midterm outcomes, but also interact with the lecturer and other participants) and information on the online teaching.


Easy Planning
Remember to use Easy Planning to book appointments for IULM's main offices and services: by filling out a simple form you can book and, if necessary, manage your reservation quickly and easily.
Click here to access Easy Planning


Personal email
The University provides an email address with which all services offered by Google Apps can be accessed. Each student will have 25 GB for mail storage, instant messaging, the ability to archive documents and share them with other students as well as numerous other opportunities. The official IULM mailbox is the only official communication channel between students and the University. In this page you can find instructions for setting up the box.


Microsoft Office 365
IULM University, in collaboration with Microsoft, has activated the Microsoft Office 365 Education service for all students.
An agreement that allows students to install or access the following services and products free of charge
The latest versions of Microsoft Word, Excel, PowerPoint, OneNote, Outlook, Access and Publisher
Installation of the Office package on up to 5 PCs or Macs, 5 Tablets and 5 Smartphones, not owned by IULM University
Infinite storage space on the OneDrive cloud
The use of Office online
Windows 10 Enterprise: the most up-to-date and powerful edition of the latest operating system
Minecraft: Education Edition: the most widely used video game in the world
To access Microsoft 365 Education register on the https://portal.office.com/ portal with IULM credentials
Quick Links

MyIULM - Courses (select the degree course concerned and search under "Teachings and programmes 2021/2022")
Useful Dates A.Y. 23-24
I semester
Sepember. 25-Dec. 22, 2023
II semester
February 19 - May 25, 2024
University closures
November 1, 2023
December 7 - 10, 2023
December 23, 2023 - January 7, 2024
March 29 - April 2, 2024
April 25 - 28, 2024
May 1, 2024
June 2, 2024
Study plan presentation
mid-October to mid-November
first two weeks of March
Examinations
January 9 - February 11, 2024
May 27 - July 4, 2024
August 27 - September 21, 2024
Graduation examinations
November 6 - 14, 2023
April 11

—

12, 2024
July 25 - 26, 2024
Graduation Day
November 10 and 11, 2023
April 11 and 12, 2024
July 25 and 26, 2024
Fees and contribution deadlines:
I installment - upon enrollment
II installment - by December 13, 2023
III installment - by March 31, 2024
ISEE assignment
Regional scholarships
Catering at subsidized rates
Housing calls
Applications for Erasmus and other mobility programs
between January and February 2024
Call for applications 150 hours
IULM sports teams