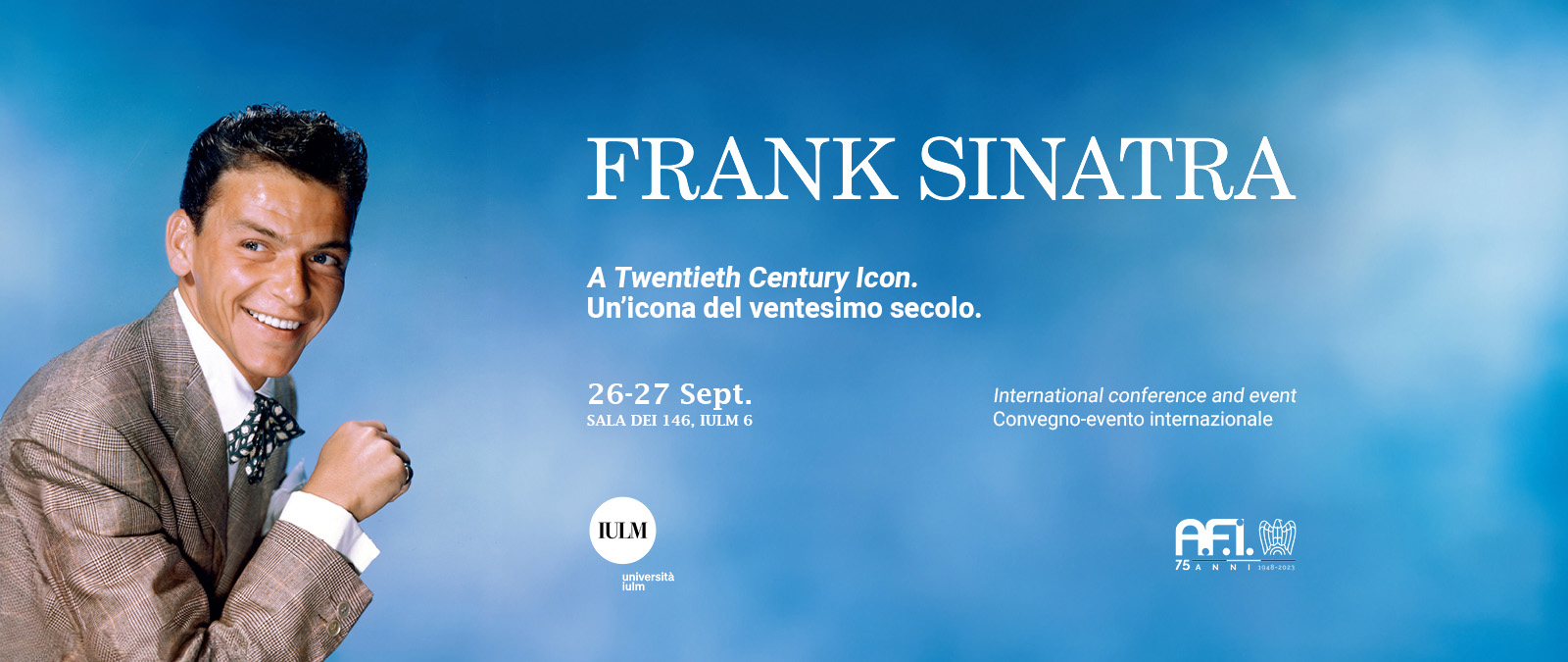 Frank Sinatra: A Twentieth Century Icon
An international conference at IULM on September 26 and 27
The son of Italian immigrants who settled in Hoboken, New Jersey, Frank Sinatra (1915-1998) rose from humble beginnings to become one of the world's best-selling and most widely acclaimed singers. Beyond his undisputed dominance in the recording studio and on the airwaves, Sinatra enjoyed tremendous success as a big band singer, an actor in both musical and non-musical films, and a star performer. His musical interpretations were intensely personal; Sinatra's embodiment of a song, regardless of medium, carried depths of expression that went far beyond the ordinary.Along with his innate ability to sustain a musical line, piercing blue eyes, cocked-hat image, and complicated personal life, it is no surprise that Frank Sinatra, a quarter century after his death, remains one of the twentieth century's most distinguished and distinguishable cultural icons.
This two-day symposium brings together award-winning writers, scholars and performers from Italy, the USA and the UK to collectively explore the life, career,
and legacy of the global musical phenomenon that was Frank Sinatra. Over its two days, the symposium will feature presentations, musical performances, and a special screening of a new documentary about Sinatra and Italy. Sinatra famously said, "Cock your hat – angles are attitudes." The new angles presented at the symposium will further illuminate aspects of this extraordinary artist's life and distinctive performance career on record, television, and film alongside fresh perspectives on his continuing legacy

Conceived by IULM professor Luca Cerchiari and professor William A. Everett (University of Kansas City, USA) the conference, entitled Frank Sinatra. A Twentieth Century Icon/Frank Sinatra. A Twentieth Century Icon is organized by the IULM Master's Degree in 'Music Publishing and Production' (directed by Cerchiari himself) in collaboration with AFI, and will be held on Sept. 26 and 27 in Room 146 (IULM 6).
The event is reserved for students and academics in the university community.