European PAgES project
Year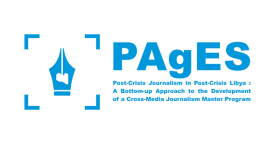 Project Summary
PAgES aims at contributing to the modernization of the HE in Libya through a bottom-up approach for the design and pilot of a Masters Course in Cross-Media Journalism. The Master targets young people studying communication and young professionals in the field of digital journalism. The Masters Course will be designed by means of a participatory approach, involving teachers from the EU and Libya, students and journalists. Teachers will be provided with the required skills for the delivery of the Masters through a set of CB initiatives: online Repository for Training Faculty, online Space for discussion and study visits at two EU universities. The length of the Masters Course is of two years (120 ECTS), and it will be taught in English. The aim of the project is to promote local expertise, and we expect the Masters to be held in all Libyan Universities. The first year will be piloted during the lifetime of the project. The wider objective is to contribute to the modernization of HE in Libya and support the implementation of the Bologna Process, and to improve the journalistic skills of Libyan youth in order to contribute to the democratization process of the country.
The Libyan condition is aptly described by Freedom House, according to which "The fall of the Qadhafi regime lifted restrictions on the long-repressed media sector. Citizen journalism became more common, and media outlets publications multiplied in number. However, media freedom is increasingly limited and many journalists have censored themselves". According to Reporters Without Borders, "political impasse" is making journalism risky and difficult: Libya ranks 163 out of 180 countries in the World Press Index, while it ranked 155 in 2011, the year of Qaddafi's death. It is necessary to define new skills and engender a new awareness of the part played by information in the building of a democratic country. Euro-Mediterranean cooperation is of paramount importance, with respect to this goal.
Link to project card: Show project card
This project has been funded with support from the European Union. This website reflects the view only of the author, and the Commission cannot be held responsible for any use which may be made of the information contained therein.
Name and address: COUNTRIES- Post-Crisis Journalism in Post-Crisis Libya: A Bottom-up Approach to the Development of a Cross-Media Journalism Masters Program
Reference: 598349-EPP-1-2018-1-EN-EPPKA2-CBHE-J